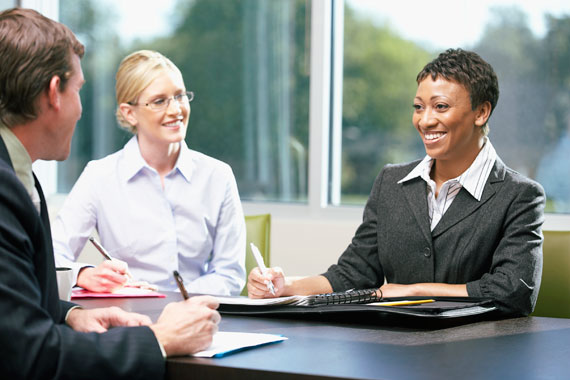 At L J Ross Associates, we focus on client satisfaction and payer resolution. Our highly skilled recovery specialists are specifically trained in all varying areas of our business, allowing us to provide professional debt collection services in the healthcare, utility, educational, financial and government space.
Since 1992, L J Ross Associates has specialized in accounts recievable management, continuously improving the methods for collecting clients' delinquent accounts. We hold memberships in the Michigan Association of Collection Agencies and the Association of Credit and Collection Professionals. We are proudly certified by the National Minority Supplier Development Council as minority owned and operated.
Have a Coffee On Us!
Schedule an appointment and coffee's on us at our first meeting.
A PEOPLE-FIRST APPROACH

At L J Ross Associates, we understand that sometimes life throws curveballs, a lost job, medical diagnosis, car trouble, becoming a single parent, or other familial changes. Any number of things can make life more difficult. That is why at L J Ross, we treat account holders as people and work to help them create a plan for getting out of debt and putting their finances in order. We begin the process by developing a trusted connection with the account holder in every interaction. Research has shown that establishing a relationship built on trust with our account holders, leads to faster resolutions and informed decisions.

We understand the importance of your business reputation, which is why we treat every interaction as an extension of our clients. We track accounts carefully and are diligent in collecting repayment. Our highly-trained staff is trained in collections best practices to ensure a fast, efficient, and ethical process.

WHY CHOOSE US?

Here are just a few reasons to partner with L J Ross Associates for accounts receivable management, bill pay, or call center services:

Certified Recovery Experts – Our recovery specialists are well-versed in each industry we serve and complete extensive training to receive their ACA Professional Collection Specialist Certification.
Compliance – We have an in-house compliance specialist that oversees the regulatory compliance issues within our company, implementing internal controls, policies, procedures, and training.
Online Account Placement – We now offer a fast, secure method of placing delinquent accounts in collections for a faster accounts receivable management process.
Continued Training & Industry Monitoring – We strive to be a thought leader in the field of accounts receivable management, and invest in continual development for our employees across all industries we service.
Data Security – Through integrating various regulations, directives, and guidance, L J Ross has security management controls in place to protect client data and assets.
An Extension of Your Office – Our recovery specialists act as an extension of your business office, forwarding newly gathered information providing account holders instructions for remitting payment.
Bill Pay & Call Center Services – We offer a range of accounts receivable management services, including bill pay and call center, to provide superior results for our clients.
Clients & testimonials
---
Experience has shown that our industry specific recovery specialists provide flexibility, increased knowledge, and more efficient collections with higher recovery results for all clients. Our recovery specialists are trained to be well versed in each of the industries we service. We require all recovery specialists to complete extensive training and ACA Professional Collection Specialist Certification.
We guarantee that each call is handled with the utmost professionalism and is in compliance with the Fair Debt Collection Practices Act. Each recovery specialist is also trained to be in compliance with emphasis on the Fair Credit Reporting Act, Health Insurance Portability and Accountability Act and all individual local, state, and federal regulatory statutes. We are licensed and insured to provide collections services nationwide.
Client Since 2010

We love LJ Ross, they consistently give us the highest ROI every month.

Ohio utility company
LJRA's on-boarding, client software and customer service is second to none.

One of the top universities in Michigan
Client Since 1992

We have been extremely satisfied with LJ Ross' communication, growth and professionalism for over 20 years.

One of the largest utility companies in Michigan
Client Since 2003

LJ Ross has proven that their experience in the medical and healthcare industry for collections does pay off.

Midwest Healthcare System
Client Since 2008

We love working with LJ Ross, whether uploading new placements, running reports or checking balances, they are there 24/7.

Major financial and banking institution in several states